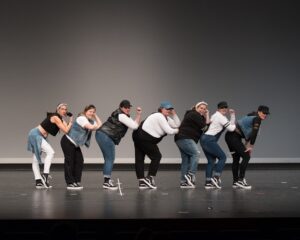 Do you want a fun way to stay active? Did you dance as a child and really miss it? Or maybe you just want to step out of your comfort zone and try something new? No matter your reason, you should consider Merrilee Studios' Adult Classes! We offer classes for Adults in Ballet, Tap, Jazz, and Hip Hop. The Ballet class is 45 minutes and all other classes are a half hour.
Similar to our school age classes, our Adult classes focus primarily on technique in the first half of the year and start learning a recital routine after Christmas. However, performing in the recital is completely optional. Our teachers are happy to have flexible formations so you can learn the routines alongside the other Adult students without the pressure of performing onstage.
Adults are also welcome to take Tumbling and Stretch & Strengthen.