Dance Clothing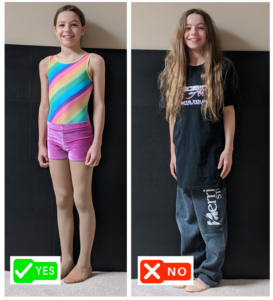 All students are expected to wear the proper dance clothing and shoes by the third week of lessons.
Female students should wear a leotard and dance tights. Short ballet skirts, tight fitting shorts, and leggings are allowed over the leotard. Skirts and shorts should be mid thigh or shorter. Close fitting cami tops or baby T's are allowed over leotards. Long skirts, gaucho pants, jean shorts, knee length shorts, pajama pants, and Capri pants are not allowed.
Male students should wear a T-shirt with bike pants or shorts. In the cooler weather, sweats are allowed for the male students. Loose fitting shirts and pajama pants will not be allowed.
All long hair must be tied back. Please no high ponytails for tumbling students. They really hurt when the child rolls on them.
No jewelry should be worn to class.
No perfumes, lotions, or colognes should be worn to class.
Dance Footwear
Preschool tap students will need black patent leather tap shoes.
Tap K/1 and Tap 2 students will need tan tap shoes with one strap.
Intermediate and advanced tap students will need the black lace up tap shoes, preferably with a full sole and box toe.
Ballet students will need pink ballet shoes. We also have split sole ballet shoes and canvas ballet shoes for the students in Level 3 & up.
Tumbling students will need white tumbling shoes.
Jazz students will need tan jazz shoes.
Pointe students will need pink satin pointe shoes.
Hip hop students need black dance sneakers.
Broadway students will need tan jazz shoes
Contemporary students will need tan half sole canvas or leather "spinner" shoes.
Dance Supplies
Dance supplies are sold in the studio. We have all of the shoes and leotards that your child will need in stock. We also have tights, legwarmers, dance sweaters, socks, shorts, camis, bra tops, skirts, and Merrilee Studios logo T shirts.  Although we do not use them for our classes, we also carry black slip on jazz shoes for area school dance teams.
All merchandise is 10% off during one week in late October (Midnight Madness – see calendar for exact dates), during the month of December, and during the summer classes.
Please check out our closeout/discontinued area. There will be some great buys.