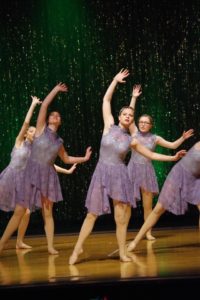 Contemporary dance incorporates Ballet, Jazz, and Modern technique with abstract movements that may or may not tell a story.  This form of dance often contains unpredictable movement with changing of rhythm and directions and can display an independence between dance and music.  Contemporary dance often appears disorderly, but relies heavily on good technique.  It is dance for dance sake, allowing for creative freedom and the expression of deep emotions.
Merrilee Studios offers Contemporary classes to students who are currently registered in a Level 2 or higher Jazz or Ballet class. Students will learn innovative choreography along with learning to convey emotions through dance.  This class will help your child grow as a dancer, artist and performer.
Click on the images above to enlarge.