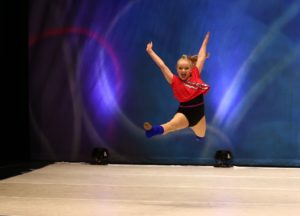 The Jazz dance movement grew out of the syncopation and rhythm of Jazz music. It is a fun dance style that uses bold, dramatic body movements, including body isolations and contractions. Today's Jazz is an ever evolving form of dance with new styles and movements emerging all the time.  Merrilee Studios teachers attend dance conventions and conferences to stay up-to-date on the latest moves.
The majority of our Jazz classes focus on technique.  We offer Jazz classes for Kindergarteners through High School students.
Our Kindergarten and Level 1 classes learn two routines in the Fall that help them apply their technique in fun ways.
Our Level 2 through 5 students learn a variety of movements including turns, leaps, floor rolls and intricate footwork.  These older students learn combinations and progressions during the first half of the school year.
After Christmas all our students begin working on their recital routine.
Click on the images above to enlarge.