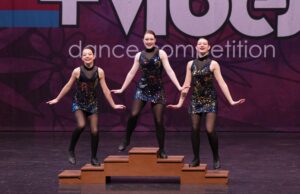 Tap is a purely American art form and is thought to be a combination of Irish Step Dance, Appalachian Clogging, and African rhythms. Tap dancers wear shoes with metal "taps" attached on the toes and heels of the soles of the shoes. A rhythmical tapping sound is attained by the dancer from the small metal plates on the dancer's shoes. It is in this way that the dancer also becomes a percussive musician.
Merrilee Studios offers Tap classes to students of all ages. Our Tap students begin with basic tap technique and evolve to intricate patterns including many varieties of wings and pullbacks. People have told us that our Tap program is the best in the area.
Click on the images above to enlarge.