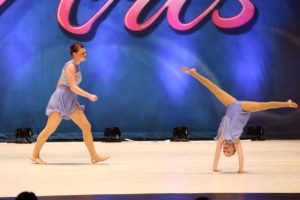 Broadway, or the Musical Theatre form of dance, is one that combines acting with dance. The story and emotional content of the piece – humor, love, anger – are communicated through music and movement.  Musicals are performed all around the world. They may be presented in large venues, like Broadway Theatres, or by amateur groups in schools, small theatres and other performance spaces. No matter where the musical is performed, the Broadway style of dance is a part of all of them.
Merrilee Studios offers Broadway classes to children who are at least seven years old and are currently enrolled in a Ballet or Jazz class.  Our students learn choreography to music from a variety or musical theatre styles and are encouraged to act their part while performing.  Broadway is a fun and popular class.
Click on the images above to enlarge.